Local Events!
Durango FiberWorks will have a vendor booth at the San Juan Citizens Alliance Oktoberfest, held in downtown Durango (Main St), Sept 30th & Oct 1st. We are dedicated to finding ways to support fiber artists in the area so we invite all who have handcrafted fiber and wearable art to contribute to the vendor booth. FiberWorks asks for 10% of the proceeds from your sales if you help work the booth, 20% if you don't work the booth.
The Oktoberfest is a major Durango party event, attracting a huge crowd ... and with the weather starting to change, this is a huge opportunity to sell your wares. Everything needs to be handcrafted here in the 4 Corners area. We also plan to have demos during the festival, so anyone wanting to just come and spin, please do so! Contact Raylene at info at durangofiberworks dot com for more information.
The Fiberworks is also working on several holiday open houses in the Smiley Building, along with our fellow resident artists. We don't have nearly enough product to supply the demand, so if any of you out there are interested in doing production work (spinning, knitting, feltmaking, weaving, etc ... ), please consider joining our ranks. Again .... email Raylene for more information.
One last item ....The FiberWorks is hosting a fundraiser workshop for Alternative Horizons, starting this Sunday the 24th. Heather Mullet will be teaching a Knit a Christmas Stocking workshop: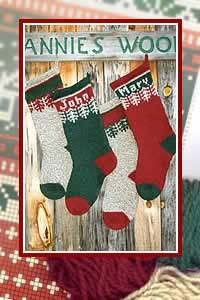 Registration is $50 and all proceeds go to Alternative Horizons. This organization does VERY important work for women in our community, so if you knit, please, please join Heather for this fun workshop. We have a couple of spaces still available. For more information, please call Heather at 259-7277.
And as always ... Open Spin night at the FiberWorks is every second and fourth Tuesday evening, starting this month we will begin at 5 pm and go until when we want to head home!